Okie Print Barn...
We got this!​
Okie Print Barn began with a Christmas morning gift and an entrepreneurial spirit of one couple.  After opening her new vinyl cutter Veronica couldn't wait to get started creating and she did just that. Armed with her graphic design major in college, a shiny new piece of equipment, and her trusty Mac, she built a thriving business making custom tees.  From there, jumping with both feet into screen printing was the next logical step. As she learned the industry, she improved processes to make deliverables faster, better and more economical for her clients.
"After going through numerous printing shops through the years we found Okie Print Barn and do not plan on going anywhere else! Their prices are always competitive and their customer service is unparalleled! They have gone above and beyond on every order we have placed with them and are extremely pleased with them as print shop!"​
"Okie Print Barn has done many print jobs for me, both personally and professionally, over the last few years. Veronica is a skilled artist who has created many designs for me or simply adjusted a design I already had. Matt and Veronica make ordering simple and easy. Every order has been accurate and on time or early. Okie Print Barn is my go to place for any of my printing needs!"​
Hassle-free, Local Okie Apparel Experts
Need a design?
We'll create one for you!
Quality-built, hard working, local, and big enough to handle any job. ​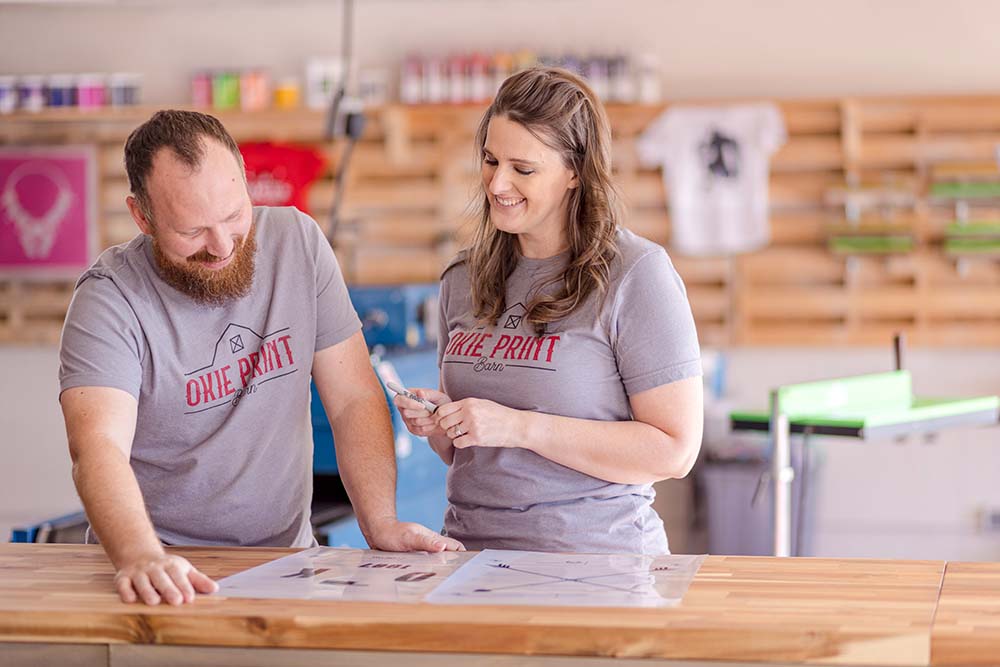 Fast forward three years after that fateful Christmas Gift, Veronica (pulling her husband with her) had built a thriving screen printing business in their garage. Centered in Mustang, OK, the community was a huge part of their business. The only logical step was to move into a larger space for growth and to be more accessible to the community. 
Okie Print Barn now has three manual screen printing presses and a commercial embroidery machine operating in their location on Highway 152 in Mustang, Oklahoma. Along with their 4 part time employees the company continues to grow quickly offering the best prints in the area and great customer service.
Co-Founder / Screenprinter
A Graphic Art Minor, designer, owner, mother and the brains behind Okie Print Barn. Veronica is Oklahoma. Born in Tulsa and a 6th generation Okie her family having come here in the land run. Veronica loves her craft and devotes herself to making sure that her art and her business reflect her roots to Oklahoma.
A Business Major, touring sound guy turned printer. Matt married into Oklahoma in 2012 and loves the feel similar to his small rural farm community in central Illinois. Matt grew up around farms knowing what the barn represents to most farmers. Refuge, safety, and hard work. These principals are what drive him to give the best making sure that every print, hat, hoodie, shirt or cup that goes out of the door at Okie Print Barn meets the standards that he learned from his hard working family.
Okie Print Barn Guiding Principles
Okie Print Barn has spent years honing our technique, building our team, and gathering the best equipment in order to give you the best possible solution and timely service. 
Our friendly and knowledgeable staff is eager to assist you. Call us at (405) 806-5391, there's no project too big or small.
The brands you trust
We start with quality threads and work hard to keep the prices low.
Get 'er done with Okie Print Barn!
(405) 806-5391